Rural & Charming Hotels in Navarra - The Paradores of Navarra


Photo by Bruno Barral/CC BY-SA 3.0
Anyone viewing scenes of the rugged and dry Bardenas Reales in the Navarra region of Spain would be forgiven for thinking immediately of the wild and woolly American West. With its incredible natural structures, this natural park and Biosphere Reserve holds a stark and beautiful fascination.
Bardenas Reales is a semi-desert region located in the southeast of Navarra, close to the border with the region of Aragon, and right in the middle of the Ebro Valley. The area is surrounded by the Yugo Mountains and is split mainly into two Bardenas, Bardena White and Bardena Black, with three natural reserves, namely the Rincón del Bu, the Caídas de la Negra and (to the north) the Natural Reserve of Vedado de Eguaras.
The Bardenas consist of landscapes of high plains, hillocks and gullies, with Bardena White getting its name from the presence of white salt on the surface. Bardena Black has been formed by plateaus of varying altitudes with rivers flowing through at the bottom of the cliffs. Unlike the stark and bare appearance of Bardena White, this area is covered with sparse vegetation. Running through the area is the central plateau, at 100 meters in height and where corn is grown.
The Bardenas Reales covers an area of 42,500 hectares which can be crossed on foot, horseback, bicycle or car. The various routes are clearly marked and easily accessible, with the only exceptions being the best viewpoints of the Bardenas, the Alto de Aguilares and the Balcón de Pilatos, which are reachable only by bicycle or on foot.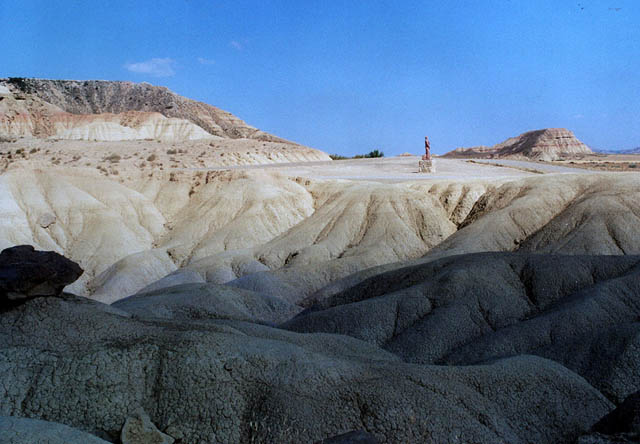 Photo by Geheimnisträgerin Public Domain


The most convenient place to stay while visiting the area is the charming Navarran city of Tudela and approach roads to the park's information center and the park itself can be accessed on the NA-134 road, running from Tudela to Arguedas.

Tudela is the capital of the "Ribera Navarra," the main agricultural area of lower Navarra and offers several interesting historic buildings and sites dating back to the Romans and Celt-Iberians. The area offers the excellent cuisine of Navarra with many dishes made from the fresh vegetables grown in the surrounds including the famous menestra, a dish of several different combined vegetables.

Of particular interest during a stay in Tudela are the central square (Plaza de los Fueros), the Palace of the Marquis of Huarte, the Palace of the Marquis of San Adrián and for art lovers, the Muñoz Sola Museum of Modern Art.

Probably the most fascinating and appropriate accommodation available when visiting this area is located outside of Tudela, right on the border of the park. The Hotel Aire de Bardenas is a single story building, designed to merge with nature, and features an outdoor pool and indoor garden. The hotel serves only the best locally-grown produce in the area. View more of this fascinating area of Spain in the video included below.


Rural & Charming Hotels in Navarra - The Paradores of Navarra