Return to Travel Guide / Golf and Spa Holidays in Spain
Spain is considered as the world's top ranked golf destination. Literally, there are many high class golf courses in the country and some of them have been also enlisted in Europes first ten quality golf courses. If you have decided to play golf in the country, here is given important information about top courses and regions in Spain.
Costa Brava
Costa Brava is a developing region to play golf Spain and is home to around ten world class championship golf courses including beautiful Club de Golf Costa Brava and Emporda courses. The year round mild climate and low priced golf rates have made the region an ideal destination to enjoy golf in the country.
Costa Blanca
Long areas of mountain trails and beaches, the conventional villages and towns and around twenty international golf courses, all are accountable for making the south eastern area a preferred holiday spot. Due to its location in the proximity of Alicante Airport, the visitors can book their flights easily. Also from the airport, the travelers can get accessibility to all famous golf courses such as Bonalba, Alicante and Alenda without major problems. The tourist town of Benidorm is also located in this region which through its famous coastline, appeals the crowds of travelers. However, if you decide to find some accommodations in old villages where interesting cultural customs are maintained, then you are certain to get memorable golf holiday experience in Spain.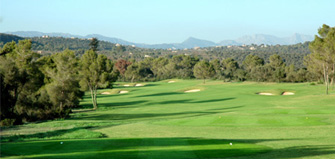 Costa del Sol
Costa del Sol is a superb golf destination in the country where golf courses really share edges with others for complete length of beach area. However, there are also some golf courses which are run down to filthy beaches. The resort towns namely Fuengirola and Benalmadena situated in the vicinity of airport are considered appropriate bases for spending golf holidays; however you are also free to choose mountain golf courses like Monte Mayor located at Benahavis where demanding hilly greens really present extremely spectacular views. This place is world renowned primarily because of the presence of Valderrama golf course which is perceived as the best one in entire Spain and also in Europe.
Country club and Santa Maria Golf has earned huge popularity among privileged golf clubs in Costa del Sol. It is basically an eighteen holes golf course which proffers the participants a challenging golf playing experience with spectacular sights of both Mediterranean and mountains. The 1st 9 holes were previously designed by Antonio Garcia Garrido and when the holes were opened, it became popular among its members. The 2nd 9 holes were designed by technical staff of club and were opened during the year of 1996. Nowadays, this golf course has been developed as the finest among entire coast.
Almeria
A dry, warm climate of Mediterranean appeal the golfer from all over the world to 8 championship courses situated in south east region of Almeria. Its longer, deserted beaches with beautiful small bay and higher mountains exhibit really a great view. Here, the visitor can enjoy quiet holidays, although various street shops and stalls in towns along with grand restaurants as well as bars offer a good alternative for golf lovers.
So, plan your golf Spain holidays right now and enjoy some incredible golf locations.
Golf and Spa Holidays in Spain
About the author: Golfing in Spain. One search to compare the best golf breaks online. La Manga Golf one of the great golf resorts