Return to Travel Guide / Granada Tours / Paradores of Andalucía
If the magnificent and mighty walls of the Alhambra Palace in Granada could speak, what a tale they would tell! For historians and scholars, Christians and Muslims, not to mention millions of sightseers, touring this vast and complex edifice is a breathtaking and enlightening experience.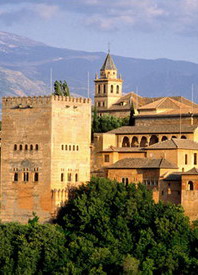 The Sabika hill, a foothill of the Sierra Nevada, was chosen by the Nasrid Sultans as an ideal location to build both court and fortress, as it commands a panoramic view of the Granada plains. Since its beginning around the thirteenth century, the structure has evolved over the passing years. Today it stands as one of the best known of all of the Islamic works of art.
The Nasrid Dynasty, last of the Islamic sultanates on the Iberian Peninsula, ended in 1492 when Christians re-conquered the area. In fact the Hall of Ambassadors in the Alhambra was the stage for King Fernando's meeting with Columbus as they discussed the voyage to seek an ocean route to India.
The Alhambra, in all its variations, additions and extensions has long been a citadel and a fortress as well as a palace, and many rulers have contributed their own enhancements. As a visitor to this historic, romantic and fascinating site you will be awed again and again by the marvels that unfold as you journey through the Palace as it stands today.
The most famous part of the Alhambra, the Royal Palace, has three parts: the Mexuar, the Serello and the Harem. All are well worth viewing, but the Lions' Court, from which the Harem extends, is probably the most famous and photographed area in all of Spain. The American Washington Irving wrote about "the Arabian romance" and "the abode of beauty" in his Tales of the Alhambra, contributing greatly to the world's recognition of Moorish Spain and its glory.
Return to Travel Guide / Granada Tours / Paradores of Andalucía


About the Author - A highly detailed guide to all facets of life and tourism in Granada and the wonders of Alhambra Granada