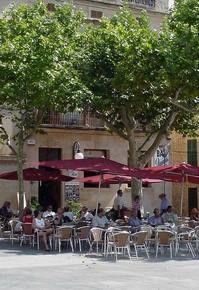 Hotel Juma was built in 1907 and it opened its doors to its first guests under the name Hotel Cosmopolita. Today, completely refurbished, the hotel offers its guests the greatest quality and comfort.
At Hotel Juma, we have always been guided by our desire to make the hotel into a welcoming home away from home, combining contemporary needs with a very distinctive atmosphere and offering our guests the most comfortable and modern facilities.

The modernist building, dating from the turn of the century, has an excellent cafe and a spacious terrace, which enables guests to enjoy the pleasure of a get-together in the shade of the plane trees in the main square, one of the most charming localities in the town.

Please also see L'Hostal, Hotel d'Interior - our second hotel, located only a few paces from the Juma.