Return to Travel Guide / Sailing & Cruising Journeys & Yacht Charter Services in Spain
The primary sailing areas in Spain are the Balearic Islands in the east, Costa del Sol in the south and La Coruna in the northwest. The Canary Islands is also a renowned sailing destination.
The islands of Mallorca, Menorca and Ibiza are called the Balearics. This is a great sailing area with Mallorca as the focal point.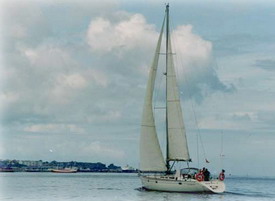 Over the last couple of years Spain's Mediterranean coast and islands have seen a tremendous development in yachting facilities. There are new marinas being built everywhere, so that one is never more than a few hours' sail from the next harbor.
The Canaries - northwest of Africa's coast - have long been associated with sailing and the yearly Atlantic Crossing sets off from here to St Lucia in November each year.
The European country called Spain seems to never run out of reasons to celebrate. As a matter of fact, every Spanish municipality can declare as much as 14 kinds of public holidays every year. One should not forget too the different kinds of religious observances that they should follow, being one of the biggest followers of Roman Catholicism. Indeed, visitors can definitely immerse themselves to the Spanish culture. If not, then they can just hire a boat and enjoy sailing in Spain.
Amidst the colorful scenery of Costa del Sol, with all its sky-rise buildings and whitewashed villas, is Sotogrande. It is a very peaceful Spanish area surrounded by one of the world's best marina. You can certainly find chartered boats and yachts that can offer different packages for sailing across Spanish seas. The entire place is also packed with different kinds of tourists especially on winter months when regattas are normally held. This place attracts several individuals who love to participate in any sailing event. If you're not sailing in Spain's seas, then you can have fun playing with golf or polo. There are many kinds of golf and polo courses that you can choose from. You may also have your dinner among its many fine bars and restaurants that are located in the edge of Sotogrande's waters.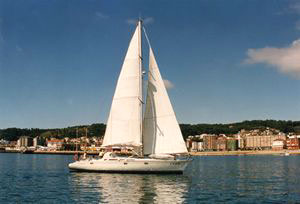 Sailing in Spain can take you to the beautiful beaches of Costa Brava, which is regarded as a very famous vacation spot of tourists. There are also other activities that you can take part of. For one, you can walk along the scenic shorelines and meander in the mountains and hills of Catalonia. There are maps that you can obtain from the local office. The routes are safe for all ages.
Ibiza isn't just about night clubs. There are also many kinds of markets and fiestas held every day. But most of all, Ibiza is world famous for the various beaches that surround the island. There are almost 60 beaches with fine white sand and pristine blue waters. Activities that you can take part of include kayaking, snorkeling, skiing, swimming, diving, and sailing. There will surely be chartered boats and yachts that can take you to any nice island locations near Ibiza. You can also take part in daily sailing tours at a very reasonable price.
Being in Spain is simply like exploring every facet of your life. You can have your dinner among its fantastic restaurants and get a taste of the traditional paella valenciana or its various kinds of seafood dishes. You may also enjoy watching movies from famous Spanish film directors. Or you can simply embark on sailing trip in Spain and see what nature has gifted the developing region.
Sailing & Cruising Journeys & Yacht Charter Services in Spain
About the Author - D. Browall is with http://www.sboats.com, an independent directory on yacht charter and sailing vacations. Visit his website if you want to find companies offering yacht charter in Spain as well as many other popular sailing areas such as yacht charter in Greece