The Valencian Community is an Autonomous Community located in central and south-eastern Spain. It is divided into three provinces, from south to north: Alicante, Valencia and Castellón.

The community has 518 km of Mediterranean coastline and covers 23,259 km² of land with 5.02 million inhabitants (2008). Its borders largely reflect those of the historic Kingdom of Valencia. The region's capital is the city of Valencia.

The Valencian gastronomy is of great variety, although their more international dishes are rice based, like the worldwide known Valencian paella. The rice is a basic ingredient in many of the typical dishes, like the "arròs (rice) a banda", the "arròs a la pedra", "arròs negre", "arròs amb costra", "arròs caldós", among many.
The Valencian Mediterranean climate favors the cultivation of citrus fruits and vegetables, with the cultivation of the orange being perhaps of highest importance as one of the typical fruits of Valencian agriculture.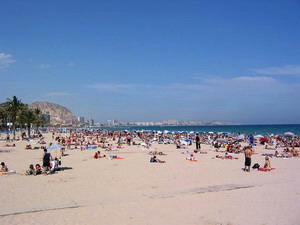 Costa Blanca (English: White Coast) refers to the over 200 kilometres of coastline belonging to the Province of Alicante. The name "Costa Blanca" was devised as a promotional name used by BEA when they launched their air service (for £38.16s.-) between London and Valencia in 1957. It has a well developed tourism industry and is a popular destination for British and German tourists. It extends from the towns of Denia in the north, beyond which lies the Costa dels Tarongers, to Torrevieja in the south, beyond which lies the Costa Calida. It includes the major tourist destinations of Benidorm and Alicante.
Costa del Azahar (Spanish for Orange Blossom Coast) is the name for the coast of the provinces Castellón and Valencia in Spain, from Alcanar to El Verger, Denia. Well known towns on the Costa del Azahar include Peñíscola, Benicàssim, Castellón de la Plana, Sagunt, Valencia, Cullera, Gandia, Denia, and Xàbia.
Featured Hotel Accommodation in Valencian Community: