The plazas de soberanía ("places of sovereignty"), formerly referred as "África Septentrional Española" (Spanish North Africa) or simply "África Española" (Spanish Africa) are the current Spanish territories in continental North Africa, bordering Morocco.

Since the Reconquista, the Spanish army conquered and maintained numerous emplacements in North Africa as a defense against North Africa. Many of them, such as Oran, have been lost, and nowadays, with an approximate population of 143,000 people, only the autonomous cities of Ceuta and Melilla, which constitute the two plazas mayores de soberanía (or large places of sovereignty), and the Islas Chafarinas, the Peñón de Alhucemas and the Peñón de Vélez de la Gomera, which constitute the three plazas menores de soberanía (or lesser sovereignty places), are still part of Spain.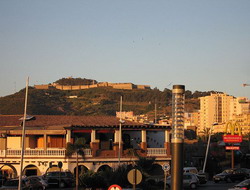 Ceuta is located on the North African side of the Strait of Gibraltar, on the Mediterranean, which separates it from the Spanish mainland. The area of Ceuta is approximately 28 square kilometres (11 sq mi). Ceuta is dominated by a hill called Monte Hacho, on which there is a fort used by the Spanish Army. Monte Hacho is one of the possible locations for the southern of the Pillars of Hercules of Greek legend, the other possibility being Jebel Musa.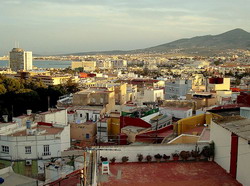 Melilla (Berber: Tamelilt, meaning "the white one") is an autonomous Spanish city located on the Mediterranean, on the north coast of North Africa. It was regarded as a part of Málaga province prior to 14 March 1995, when the city's Statute of Autonomy was passed.
Melilla was a free port before Spain joined the European Union. As of 1994 it had a population of 63,670. Its population consists of Christians, Muslims (chiefly Berber), and small minorities of Jews and Hindus. Both Spanish and Tarifit-Berber are widely spoken.