The Community of Madrid (Spanish: Comunidad de Madrid) is one of the seventeen autonomous communities of Spain. It is located at the center of the country, the Iberian peninsula, and the Meseta Central or Central Plain. The community is also conterminous with the province of Madrid and contains the capital of Spain, which is also the capital of the community. It is bounded to the south and east by Castile-La Mancha and to the north and west by Castile and León.

The City of Madrid (Spanish: Villa de Madrid) was designated as the capital of the community as well as has been explicitly designated as the capital of the country by the 1978 Constitution.

Reading on this area: A Whistlestop Tour of Madrid, Spain
Featured Destination in Madrid Community : Chinchón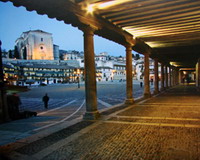 Chinchón is 50 km southeast of Madrid and is part of the Comarca de Las Vegas.
The Plaza Major in Chinchón is roughly circular, surrounded by XV-XVII century galleried houses and cafés and is used as a temporary bullring. The church of Nuestra Señora de la Ascunción was built in the XV and XVI centuries. It contains a fine early work by Goya depicting the Assumption of the Vigin. There is also a medieval castle.
Though small, Chinchón is known for its festivals, a big draw for people from nearby Madrid, and those visiting it. Two of the biggest are the Chinchón Festival de anis y vino, a celebration of locally distilled anisette and wine, which takes place and the end of March, and the October garlic festival.
Featured Accommodation in Chinchón: