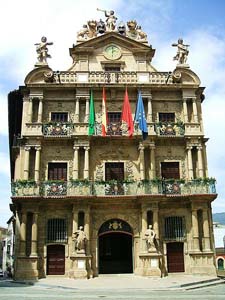 Tudela is the second largest city in Navarra with a population not higher than 40,000 people. Tudela is 94 km (60 miles) far from Pamplona, linked by a good highway and there are good connections by bus and train. It used to be a big center of vegetable production although industry has been developed in the city. It has a beautiful cathedral from the Romanic and Gothic period.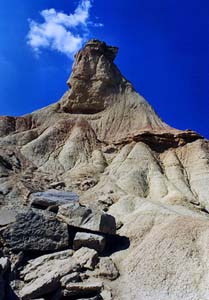 The climate of Navarre mixes influences from the Pyrenees mountains and Ebro river valley, creating a great difference between the climates of the north (much more humid and with frequent rainfall) and of the south (more Mediterranean with higher temperatures and more sporadic precipitation). One can pass from the humid Cantabrian valleys in the north to the arid, steppe-like Bardenas Reales on the banks of the Ebro river in just a few kilometers.
Close to Tudela are scenes of the rugged and dry Bardenas Reales, with its incredible natural structures. This natural park and Biosphere Reserve holds a stark and beautiful fascination.
Bardenas Reales is a semi-desert region, located in the southeast of Navarra, close to the border with the region of Aragon, and right in the middle of the Ebro Valley. The area is surrounded by the Yugo Mountains and is split mainly into two Bardenas, Bardena White and Bardena Black, with three natural reserves, namely the Rincón del Bu, the Caídas de la Negra and (to the north) the Natural Reserve of Vedado de Eguaras.
Featured travel article:

The witches cave of Zugarramurdi (Video)

Located in Navarre in the Basque region of northern Spain, Zugarramurdi is a small town with an interesting past. The caves near this town are rumored to have been the home of witchcraft and other pagan practices, a past still celebrated to this very day.

This article is the first in a series of unusual and fascinating destinations in Spain, their attractions and their history... read more