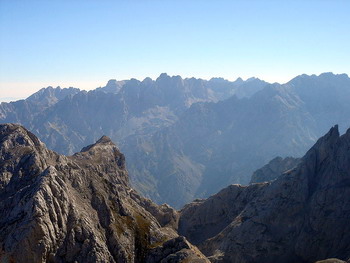 Eleven beaches in all have received the prestigious award, with three located around the town of Llanes and two in the seaside town of Cudillero. The beach pictured above right is the almost completely deserted and beautiful Playa de Torimbia.

While there may be less on offer in the way of urban activities in Asturias, the countryside is a wonderland of pristine forest, hiking trails and mountain climbing. Many areas in Asturias are now protected natural areas and include biosphere reserves and natural preserves and parks. One of the best of these is the National Park of the Picos de Europa which was declared a protected area back in 1918 - see the wide photo above and that below of these magnificent mountains.

Asturias has been a popular area since around the Iron Age and evidence of this can be seen in the many prehistoric cave paintings found in the area.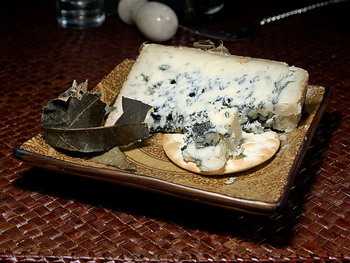 There are five caves which have been placed on the UNESCO World Heritage list, including the Tito Bustillo cave with beautiful Paleolithic paintings. The Covaciella paintings in Cabrales feature a famous bison painting. El Pindal cave in Ribadedevea has incredibly complete paintings.
Cheese lovers will definitely enjoy a visit to Asturias, which is actually known in certain circles as the "land of cheese." Most of the region's specialities are produced on a small scale, using the traditional techniques.
The most famous cheese in the area is Cabrales, pictured right. There are many cheese shops selling these delicious wares along the coast.
The most important cities in Asturias are the communal capital, Oviedo, Gijón, the seaport and largest city in the region and also the industrial city of Avilés. Another town of interest is Cangas de Onís where a magnificent Parador can be found.
Featured tour: