Extremadura Accommodation Options:
- Rural & Charming Hotels in Extremadura
- The Paradores of Extremadura
Extremadura is an autonomous community of western Spain whose capital city is Mérida. It includes the provinces of Cáceres and Badajoz.

Extremadura borders Portugal to the west, and it is an important area for wildlife, particularly with the major reserve at Monfragüe, which was designated a National Park in 2007, or the project of the International Tagus River Natural Park (Parque Natural Rio Tajo internacional). To the north it borders Castile and León (provinces of Salamanca and Ávila); to the south, it borders Andalusia (provinces of Huelva, Seville, and Córdoba); and to the east, it borders Castile-La Mancha (provinces of Toledo and Ciudad Real).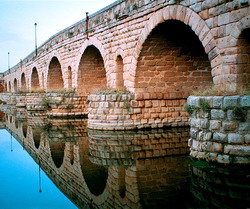 Mérida is the capital of Extremadura, Spain. Among the remaining Roman monuments in this city are the Puente Romano, a bridge over the Guadiana River that is still used by pedestrians, and the longest of all existing Roman bridges; an important fortification to defend the bridge, and later used by the Moors, called Alcazaba; the Temple of Diana; the remains of the Forum, including the Arch of Trajan; the remains of the Circus Maximus; the Acueducto de los Milagros (aqueduct); a villa called the Villa Mitreo; the Embalse de Proserpina and Cornalvo reservoirs; the Circus, the Amphitheater, and the Teatro Romano, where a summer festival of Classical theater is presented, usually with versions of Greco-Roman classics or modern plays set in ancient times.
One can also visit the Morerías archaeological site, Santa Maria's Cathedral, and many other locations all around the city to watch digging in progress, as well as the Museo Nacional de Arte Romano (designed by Rafael Moneo).
Vostell Malpartida Museum (Museo Vostell Malpartida) - Cáceres


Photo: Vostell Malpartida Museum in Cáceres CC by-SA Solyroca1000
For those interested in art, just outside Cáceres an 18th century wool-washing building has been converted by a German artist, Wolf Vostell, into the most fascinating art installation. The Vostell Malpartida Museum is well worth a visit, where the artist has used what is known as the "Fluxus" technique to create an all-encompassing sound, video and color experience... Read more about the art museum here.