Return to Travel Guide / Castilla-la Mancha Accommodation
Right next to the Buendía dam in the Cuenca province of Castilla la Mancha a fascinating hiking route can be found, completely unlike any other in Spain.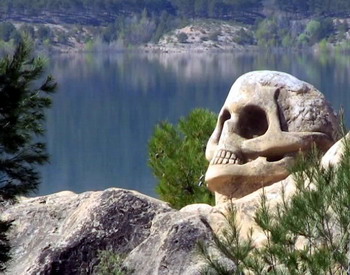 Eighteen carved faces and bas-reliefs have been sculted into the natural façade of the rocks and dotted among the beautiful landscape in the area. This has been dubbed the "Ruta de las Caras," or in English, the Route of the Faces.
Close to the city of Madrid, the surrounding scenery is thick with dense pine forests and spectacular outcrops of sandstone rock, all of this overlooking the cool and beautiful Buendía dam. Strolling the hiking paths through this landscape, an onlooker is taken on both a cultural and artistic journey of spiritual discovery. Perfect for both nature and art lovers alike, the pathway takes one out of the traditional museum setting into a more natural and serene landscape, allowing the onlooker to see the relationship between the art and nature itself.
The artistic route is the result of a collaboration between several artists over the years, creating an impressive and striking collection of sculptures, ranging in size from 1 to 8 feet in height. Each face has a mystical or religious meaning behind it and, carved into the natural sandstone, reminds one of Pharaonic Egypt, and the artists themselves say they were inspired by pre-Columbian cultures.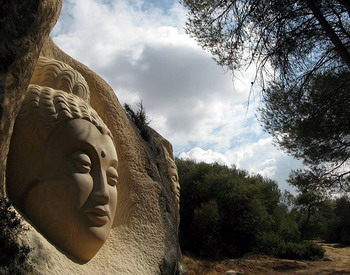 About the area
Besides the Route of the Faces, Buendía itself is worth a visit for many reasons. There are several hiking trails available in the area, including some shorter and easier ones for children. A one-hour scenic route takes you through the area, including the sculptures.
A slightly more grueling route takes one past the Buendía swamps and alongside the Sierra de Altamira, with beautiful views across the landscape.
The dam and waterways close by offer many water sports, including jet skiing, boating, sailing, fishing and bathing in some areas.
Eating is a pleasure, too, as the gastronomy of Buendía is varied and can be enjoyed in several restaurants in the town itself. Typical dishes include Cuenca roast lamb, chicken with garlic, pickled partridge, crawfish, migas (a traditional breadcrumb dish) and gazpacho (a cold soup made from vegetables), along with some very tempting local desserts.
The ideal accommodation in Buendía:

| | |
| --- | --- |
| Hotel Rural La Casa de las Médicas, Charming hotel in Buendía, Cuenca | |
Featuring free WiFi and a restaurant, Hotel Rural La Casa de las Médicas offers artistic accommodation in Buendía. The hotel has a terrace and views of the garden, and guests can enjoy a drink at the bar. There is a shared lounge at the property. Two restaurants are available for guests including the Cave Restaurant. Bike hire is available at this hotel and the area is popular for cycling. Close by, at the Buendía Reservoir, it is possible to enjoy hiking the "Rutas de las Caras" or Route of the Faces, an artistic hiking route. Each room at this hotel is individually decorated, air conditioned and features a flat-screen TV. Some units feature a seating area for your convenience....

---

---

Photos:
1. CC screen grab from YouTube video
2. CC-by-SA Asoka

Return to Travel Guide / Castilla-la Mancha Accommodation



Spanish Saffron Harvest Tour
This culinary trip takes you to the annual harvesting of the saffron flower in La Mancha. Discover the roots of Spanish Saffron, the most expensive spice in the world ... read more